DESCRIPTION

The stand up paddle or paddle or even called SUP is a board larger than a surf that allows you to stand upright when stopped. Using a simple paddle, you can move upright on the water.
Appeared in HAWAII in the 1960s, it was brought up to date by LAIRD HAMILTON.
He arrived in France around the year 2000 but has been very successful since 2010.
It is accessible to everyone and very s fun.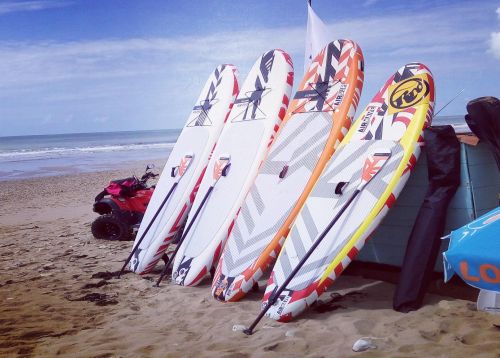 We practice and teach paddle since its beginnings in France.
We teach it on calm water so that we can become familiar with "& nbsp; the craft & nbsp;".
We practice it in the big waves brought to us by the depressions in winter.
We are closely monitoring the evolution of this relatively young sport. & nbsp; The arrival of the foil has not been spared
either the paddle and we also practice SUPFOIL & nbsp; which offers new sensations totally
New & nbsp ;!
DIFFICULTY LEVEL

EASY IN QUIET WIND CONDITIONS WITHOUT WIND
SPORTS WITH WIND AND CALM SEA (ex: northerly wind)
DIFFICULT IN WAVES AND WIND
PADDLES AVAILABLE AT THE WOODEN BEACH SAILING SCHOOL
We have a whole range of paddle adapted e to everyone's practice and size:
Whether you are young or not young, adult or child, thin or more coated, we will find the ideal board for getting started or progressing!!
We have sup or paddles called "inflatable & nbsp;" and "rigid" which allows us to adapt also to weather conditions.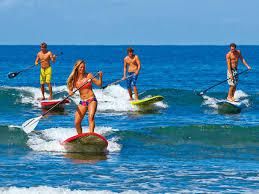 Finally we also have two giant paddles which allow ballads in families or "tribal tribes" Indeed they support up to � � up to 8 people!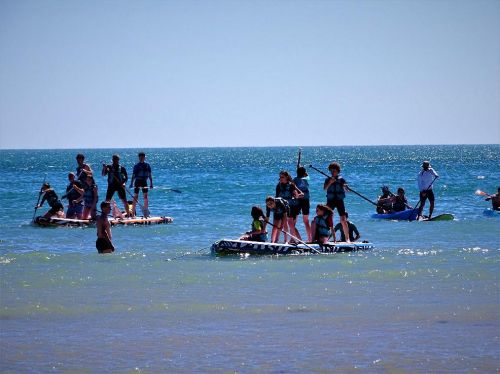 Come and share a moment of pleasure and total relaxation in family as a couple or solo, the pleasure of being on the � calm water will disconnect you from the terrestrial world and may put you in flight!
https://vimeo.com/306049025?ref=em-share
Whether it is for FLEE, & nbsp; EVG, birthdays, marriage, friends from before or others, & nbsp; we will have the right support so that this moment spent together will remain etched in your memory!!
& nbsp;
Mega paddle / kayak wedding